'KALIBR' offers most extensive product range for Thread & Plain gauges.
We manufacture gauges as per various International standards like ISO, ANSI/ ASME, British Standard (BS),DIN, JIS, API. Designing customized gauging solutions is our specialty.
Product Range


Acme Thread Gauges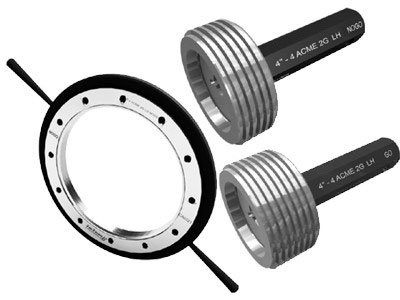 ACME Threads are used for translation motion in machine tools like lead screws, where rapid movement is required or in screw jacks, where load to be shared is more.
Specification:
American Specifications: ANSI/ ASME B1.5- 1997
B.S Specifications: B.S 1104 - 1957
Manufacturing Range: Thread Plugs , Thread Rings, Check Plugs & Wear Check Plugs of Diameter from 1/4" to 14" and TPI from 16 to 2.
For more Technical Details on ACME Threads download, Technical Information sheet from link given below.
For How to use gauges - Download Gauge users Manual from link given below - under development.
For ACME component threads dimensions, download Component Dimensions sheet - under development.
Technical Information sheet