'KALIBR' offers most extensive product range for Thread & Plain gauges.
We manufacture gauges as per various International standards like ISO, ANSI/ ASME, British Standard (BS),DIN, JIS, API. Designing customized gauging solutions is our specialty.
Product Range


Saw Tooth / Metric Buttress Thread Gauges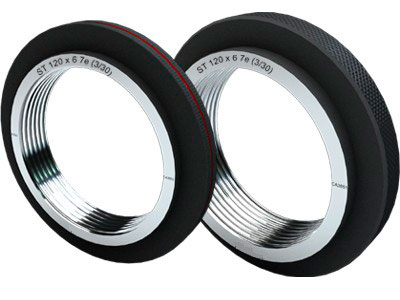 SAW TOOTH THREADS are used in the construction of artillery with the screw type breech block / gun barrels OR vices & screw jack. As Buttress Threads can withstand the axial load placed on it OR high force only in one direction, these are suitable for above applications.
Specification:
American Specifications: ANSI/ ASME B1.9- 1973 for 70/450 thread Profile.
Manufacturing Range:
Thread Plugs , Thread Rings, Check Plugs & Wear Check Plugs of Diameter from 1/2" to 14" and TPI from 20 to 2.
For more Technical Details on Saw Tooth Threads download, Technical Information sheet from link given below.
For How to use gauges - Download Gauge users Manual from link given below - under development.
Technical Information Sheet