'KALIBR' offers most extensive product range for Thread & Plain gauges.
We manufacture gauges as per various International standards like ISO, ANSI/ ASME, British Standard (BS),DIN, JIS, API. Designing customized gauging solutions is our specialty.
Product Range


Gauges for valve Fittings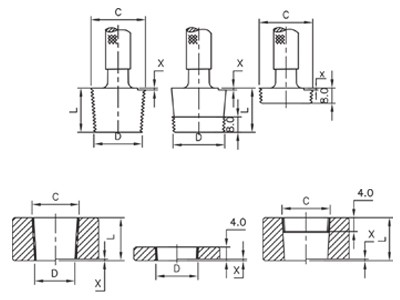 GAUGES for Valve Fittings other than LPG are used to check valves of containers/ cylinder used for conveyance of permanant, Liquefiable & dissolved Gases upto working pressure 400 bar, Valves of breathing apparatus & fire extinguishers.
Specification:
BS 341 Part 1 - 1991 (Gauges as per old BS 341-1962 are manufactured on request)
DIN 477- 1984

Manufacturing Range:
Taper Thread Plugs, Plain Taper Plug Gauges, Taper Thread Ring Gauges,Master Check Plug to check Rings, Plain Taper Rings to check crest Truncation of Major Diameter, Plain Taper Check Plugs to check Plain Taper Ring Gauges.
As per BS 341 Part 1 - 1991 - Sizes covered are from 16T, 18T, 19T, 25T, 26T, 32T
As per DIN 477- 1984 - Sizes covered are from 19.8, 28.8, 31.3.
For more Technical Details on these Threads download, Technical Information sheet from link given below.
For How to use gauges - Download Gauge users Manual from link given below - under development.
Technical Information Sheet