'KALIBR' offers most extensive product range for Thread & Plain gauges.
We manufacture gauges as per various International standards like ISO, ANSI/ ASME, British Standard (BS),DIN, JIS, API. Designing customized gauging solutions is our specialty.
Product Range


Buttress Thread Gauges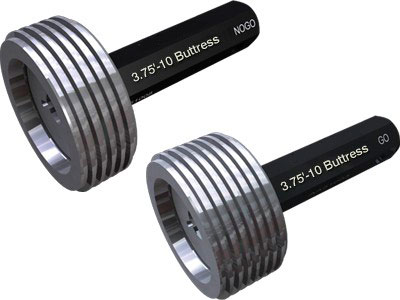 BUTTRESS THREADS are used in the construction of artillery with the screw type breech block / gun barrels OR vices & screw jack. As Buttress Threads can withstand the axial load placed on it OR high force only in one direction, these are suitable for above applications.
Specification:&nbsnbsp;
American Specifications: ANSI/ ASME B1.9- 1973 for 70/450 thread Profile.
B.S Specifications: B.S 1657 - 1950 used for 70/450 and 0/520 thread profile.
Manufacturing Range:
Thread Plugs , Thread Rings, Check Plugs & Wear Check Plugs of Diameter from 1/2" to 14" and TPI from 20 to 2.
For more Technical Details on Buttress Threads download, Technical Information sheet from link given below.
For How to use gauges - Download Gauge users Manual from link given below - under development.
Technical Information sheet