'KALIBR' offers most extensive product range for Thread & Plain gauges.
We manufacture gauges as per various International standards like ISO, ANSI/ ASME, British Standard (BS),DIN, JIS, API. Designing customized gauging solutions is our specialty.
Product Range


Oil Industry- Gauges for Rotary drill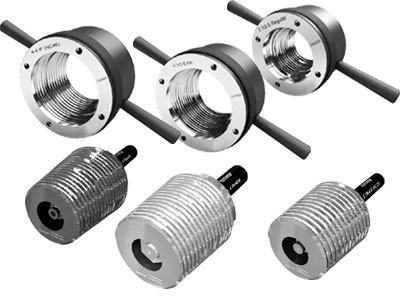 Gauges for Rotary Drill Step elements are used in Oil Industry for shouldered connections, stem elements & compounds of Rotary drill.
Specification: API Spec 7/2 - 2002.
Manufacturing Range:
We manufacture Taper Thread Plug & Taper Thread Ring Gauges for Internal Flush (IF), Full Hole (FH) and Regular (REG) connections from sizes NC 20 to NC 77 & Diameter 1" to 6.5/8"

Gauges for BECO Threads can be supplied on request..

For more Technical Details on these Threads download, Technical Information sheet from link given below.
For How to use gauges - Download Gauge users Manual from link given below - under development.
Technical Information Sheet