'KALIBR' offers most extensive product range for Thread & Plain gauges.
We manufacture gauges as per various International standards like ISO, ANSI/ ASME, British Standard (BS),DIN, JIS, API. Designing customized gauging solutions is our specialty.
Product Range


Plain Plug Gauges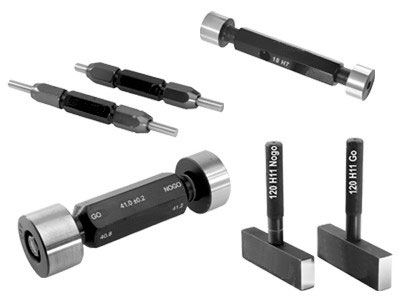 Plain Plug Gauges are used for attribute Inspection of Plain Internal Diameter measurement.
Specification:
Basic Dimensions: ISO 286 Part 1 & 2 - 2010, Gauging Practice: DIN 7164 - 1966 & IS 7859-1975.
Manufacturing Range:
Diameter 0.5 mm - 10mm are supplied in reversible pin type Design.
Diameter 10 mm - 40 mm are supplied in Taperlock Design.
Diameter 40 mm - 100 mm are supplied in Trilock Design.
Diameter 100mm - 300mm are supplied in Plate type design.
We can supply Gauges in Tungstan Carbide from Diameter 3mm to 60mm , on request.
For more Technical Details on Plain Plug Gauges download, Technical Information sheet from link given below.
Technical Information Sheet