'KALIBR' offers most extensive product range for Thread & Plain gauges.
We manufacture gauges as per various International standards like ISO, ANSI/ ASME, British Standard (BS),DIN, JIS, API. Designing customized gauging solutions is our specialty.
Product Range


Unified Thread Gauges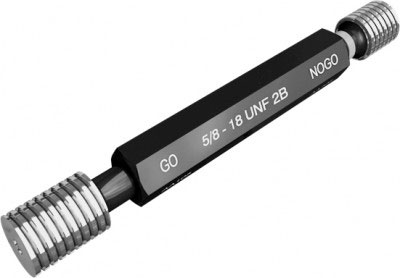 Unified Threads are used for general purpose fastening applications for Imperial system of units.
Specification - ANSI/ASME B 1.2-1983.
Unfied Gauges Basic Dimensions as per BS 1580 Part 1 & 2 - 2007 & Gauging Practice as per BS 919 Part 1-2007 are manufactured if requested by customers.
Manufacturing Range:
Thread Plug & Ring Gauges from No. 4 (0.112") to 14"
For more Technical Details on UNIFIED Threads download, Technical Information sheet from link given below.
For Unified component dimensions, download Component Dimensions sheet from link given below.
For How to use gauges - Download Gauge users Manual from link given below - under development.
Technical Information Sheet
Unified Component Dimensions