'KALIBR' offers most extensive product range for Thread & Plain gauges.
We manufacture gauges as per various International standards like ISO, ANSI/ ASME, British Standard (BS),DIN, JIS, API. Designing customized gauging solutions is our specialty.
Product Range


BSW/ BSF/ Whits Thread Gauges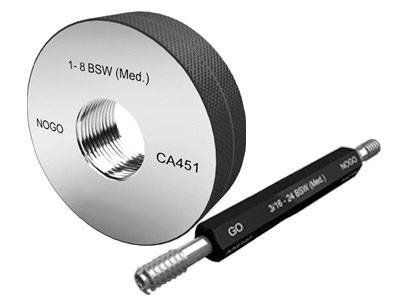 BSW/ BSF/ Whits threads are used where clerance between male & female threads is to be controlled. This uses Imperial system of units.
Specification: Basic Dimensions- BS 84-2007 & Gauging Practice: BS 919 Part II - 2007.
Manufacturing Range - Thread Plug & Ring Gauges from Diameter 1/8 to 6" , TPI 40 to 2.5
For more Technical Details on Wire Thread Insert Threads download, Technical Information sheet from link given below.
For How to use gauges - Download Gauge users Manual from link given below - under development.
For BSW/ BSF threads component dimensions, download Component Dimensions sheet - under development.
Technical Information Sheet